14 May

Vortex Bladeless biography & current stage
---
The idea behind the technology //
Vortex Bladeless is a tech startup. We are developing an environmentaly friendly wind generator which needs no blades. It is a new technology designed for small wind on-site energy generation and distributed energy on residential areas, specially thought to work on grid, or off grid along other Vortex units or regular solar panels.
Our vortex wind turbine is not actually a turbine, since it does not rotate. It is based on the phenomenon of aeroelastic resonance, harnessing energy from the wind on the emission of Von Karman's vortexes, a process called vortex shedding or vortex street. This way the device oscillates with a little movement which makes it perfect to be placed anywhere without lubricants nor disturbing wildlife.
All physical principles of current wind machines are applied to Vortex as well, it is just a different way and, as we think, a better way of harness energy from wind.
Current status
At current year, and after facing all the milestones of trying to bring a new kind of wind generator to the market, Vortex decided to focus in the end-consumer market. We are developing our first commercial product, Vortex Tacoma of 2,75 m high, for on-site generation / distributed energy. Vortex Tacoma is in certification stage and being tested in Spain with our program H2020 by European Commision which is about to finish.
We expect to reach the market in 2019, however before this we need a way to manufacture Vortex devices efficiently, surely a small factory which may be crowdfunded if needed. Of course that manufacture stage cannot be reached until the certification is done and we are sure that materials and geometry are the best ones to introduce to the market a finished and polished product.
Vortex Tacoma is designed as a "small wind" generator, entering in the market from below, best and only option for us as a startup company. At current status, Vortex Tacoma units are estimated to have nominal power of 100w and they are working on a nice lock-in range. It is possible to reach more power on this device but reducing the lock-in range, which is, roughly speaking, the range of wind speeds in which an aerogenerator is able to work. Our goal with bladeless aerogenerators is to make them a true equivalent in wind power of solar panels.
We want to generate as much energy as possible but for a longer period of time as well, since wind can blow 24/7 but not always at the same velocity. The goal here is to combine these two tasks and optimize both at its maximum. Vortex's team is formed by 10 people at the moment, working restlessly to bring the best product to the market for, as we expect, next year. Find a FAQs here.
The Bladeless turbines
Vortex is a vertical, slender and cylinder-shaped wind generator. It is composed of a fixed part where the device is attached to a basement, and a flexible part which, acting as a cantilever, interacts freely with the fluid in an oscillation movement.
It could be divided in two parts; mast and base. Curiously, one of the hardest parts is to industrialize the manufacturing of the mast while keeping its characteristics. At the moment some methods are feasible but we are still testing alternatives to optimise it.
Due to its brilliant design, it has no gears or moving parts in contact, so it needs no oils nor lubricants. The device's operation couldn't be easier, almost plug-and-go, it barely requires maintenance and operative costs. All these features makes it perfect for private energy generation and distributed energy; put it in your yard or over your roof!
The alternator transforms mechanical energy into electricity. It counts with neodymium magnets and its stator is located inside of the mobile part of the device.
While converting mechanical energy into electricity, the alternator cushions the induced oscillation movement and simultaneously it is able to modify the natural oscillation frequency of the bladeless turbine's structure, therefore the lock-in range is increased while maintaining the resonance frequency in higher wind speeds, we call this tuning system. Unlike regular wind turbines, this phenomenon is able to modify the apparent elasticity constant of the structure which depends on the oscillation amplitude, allowing it to grow as long as the wind speed grows.
In spite of its simplicity, 6 families of registered patents protects the design and technology worldwide. Find more in our technology page.
Our story, becoming a tech startup //
As every project of this kind, first steps are hard for entrepreneurs. A tech startup is even more complicated since you need to develop before manufacture, and efficiently manufacture before selling. Of course with certification, no errors from industrialisation processes, proper quality control and post-buy services. There are still many things to do and many goals to achieve before Vortex Bladeless become a full member of the Wind Industry.
Early steps
With their own resources, the project started in Deutecno in 2010, our first tech startup where we were developing electronic noses. When the Vortex's idea was born, we built a humble wind tunnel and started testing. Our concept proof was a simple water bottle fixed to a stick, oscillating by the force of the wind. We found proof that there was an energy conversion there to take advantage of.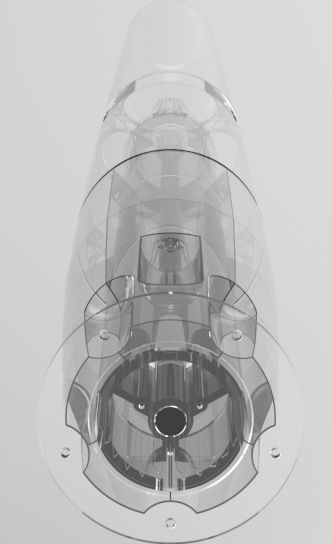 We realized soon all the funding we would need to launch this idea. A few months later we built a more elaborated technological demonstration which impressed the Entrepreneurs Fund's judges of the Repsol Foundation. In the early 2014, thanks to the Neotec funds of CDTI and a group of Business Angels which are still with us, Vortex Bladeless SL tech startup is founded and the technology principles were validated in lab and real environment tests.
Reaching milestones
To catch the imagination of the scientific community and new strategic partners, in 2015 Vortex goes to Boston, USA, to introduce our idea to MIT and let the project be known worldwide, becoming trending topic in renewable energies for months.
On the other hand, NGOs and other environmental entities like Birdlife have shown great interest in this solution and they have offered their collaboration too, since Vortex may have a lower impact on nature and fauna in the case of bigger devices are built in the future.
In June 2016, the European Union's Commission (EASME) included the Vortex project inside its Horizon 2020 programme. Since then, we have worked restlessly to optimize the technology and get it ready for the first commercial product of 2,75m high, the Vortex Tacoma, specially designed for residential usage.
Along 2017 our special collaboration with the Barcelona Supercomputing Center (BSC), the company Altair, the Microgravity Institute of the Universidad Politécnica of Madrid, and many other tech centers, has been key to success in the different milestones we were facing; having the opportunity to contrast high level computational and experimental results before reaching a functional product.
At the moment, in 2018, we started the certification and homologation processes for manufacturing. An objetive will be to find supply agreements and a small factory so Vortex aerogenerators can be mass produced, we want to change the landscape!
Future of wind power tech
If solar energy is the king of renewable energies, no doubt wind energy is the queen. Vortex wind generators are more similar in features and cost-effectiveness over time to solar panels than to regular wind turbines. We have been working very hard for years. It was not easy to find out the best ingredients and the best way to cook this special recipe, although we are very close to reach our goal and dream.
Vortex's team is working restlessly to optimise last steps and get the homologation for selling. For the milestone of efficiently mass manufacture bladeless turbines here in Spain we are planning to build a small factory, maybe crowdfunded if needed.
Meanwhile we will launch a Beta Testing where participants will be able to ex-factory purchase one of the first Vortex wind generators of the world, the Vortex Nano (1m high), a small but completely functional tech demonstration, able to feed an USB device or a Powerbank. Of course feedbacks will be collected in order to improve our final product, Vortex Tacoma, which will be sold worldwide as soon as possible.
You can keep updated about Vortex's development in our newsletter and social channels! Thank you very much.