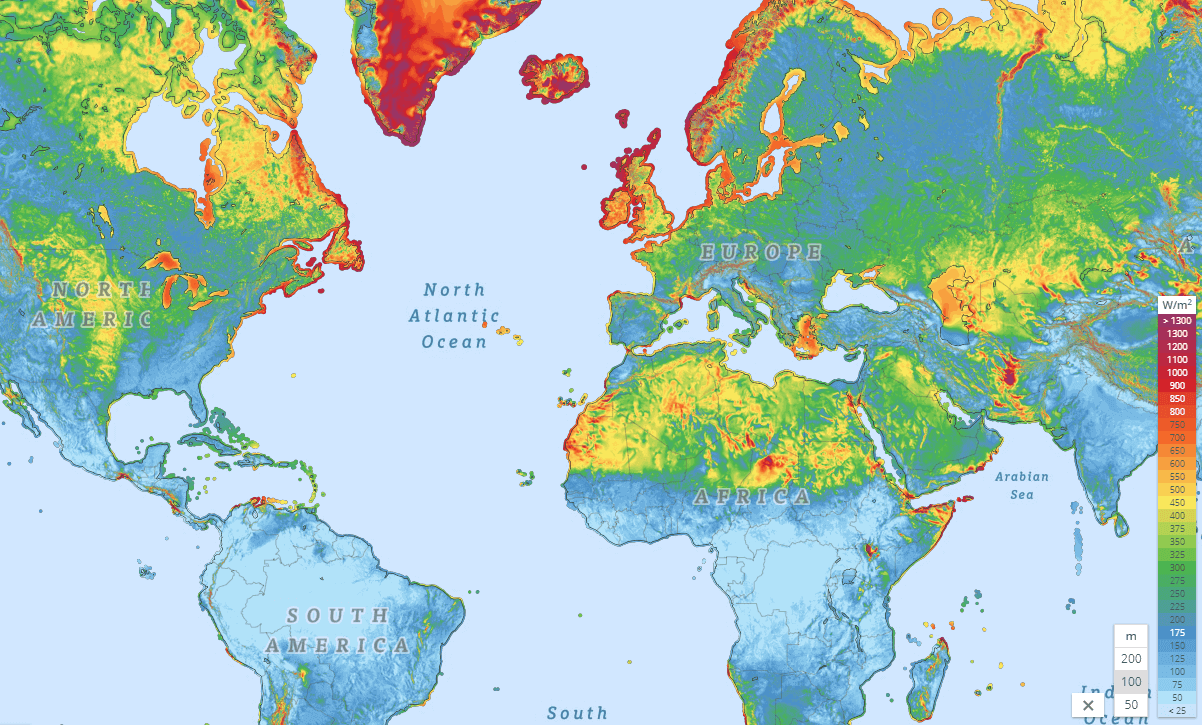 27 Sep

Cost-effectiveness & feasibility analysis for Bladeless turbines
---
Over the last decade, the utilisation of renewable energies, especially from solar and wind sources, is growing at a much faster pace than the rest of the economy in Europe and worldwide. The significant cost reduction of solar photovoltaics (PV) and wind power during this time have increased their attractiveness for those customers who are interested in saving money and help the environment with self-generation systems.

This article is going to briefly explain the current situation of different technologies in the market and try to give a reference of what is important to analyse to get a general idea about the possibilities of investment in your own renewables installation.
Small wind technologies //
Low power wind turbines are a great method of supplying renewable energy to households, urban networks and infrastructure, or off-grid systems when it is required. When setting up in favorable conditions, they can provide clean energy in the most satisfying way despite they aren't as powerful as other energy generation methods.
The given article shows some features of each wind technology currently available, collecting the advantages and disadvantages of them. To start with the analysis it is important to highlight the two main families existing in the wind technology: Horizontal axis turbines (HAWT) and Vertical axis turbines (VAWT). We are adding a newborn third family just for Vortex turbines. 
The drawing above corresponds to turbine models which could be typically found in the wind turbine market. In order: Horizontal axis wind machines, Vertical axis wind machines,  Oscillatory wind machines (Vortex).
Horizontal axis wind turbines (HAWT) are the most common type due to their maturity. All the components (blades, shaft, and generator) are on top of a tower, and the blades facing the wind. The shaft is horizontal to the ground, it has a gear on the end which turns a generator and, in the case of big turbines, brakes to slow it down in case the wind is too much.
In vertical axis turbines (VAWT) the shaft and the blades are connected vertically to the structure. The main components are closer to the ground providing a more stable center of gravity. This kind of turbines are newer than horizontal axis based and there are many different designs and models nowadays with different efficiency and behavior.
Vortex Bladeless wind generators are not considered one of the families mentioned before since there is not a rotation movement nor a shaft in the structure. The basis of this technology is a phenomenon called vorticity, "vortex shedding" or "vortex street effect" [1]. Bladeless turbines work converting wind power into electricity on the oscillation that happens when the structure of the device reaches the same frequency of resonance as the wind vortexes created behind. This is known in fluid dynamics as "Vortex Induced Vibrations".
In this article, we are trying to study those three families at the same level. However, this cannot be properly done since, compared to traditional wind machines, Vortex is not a fully developed technology yet; all the data provided about Vortex turbines is estimated with the prototypes' expectancy and the company's goals.
"Expected energy production and real production never matches. Each wind conditions and each generation goals will have a technology and a design that fits better."
Understanding wind turbines
These turbine families behave different according to wind features. An average cut-in point (start speed) for small wind HAWT is around 4 m/s. For VAWT it is a bit larger, around 4.5 meters per second [5]. Vortex turbines can reach a synchronism with vortex shedding from 3 m/s and enter into full resonance a little after (depending on wind's quality), which means that the cut-in point would be around that wind speed. Design parameters on Vortex's inner rod can modify the cut-in point of the device, giving a calibrable wind speed range.
The turbine's design is crucial for generating energy at low wind speeds, this also means reaching the maximum power production earlier. The table below shows an output power approach at different wind speeds for average HAWT and VAWT turbines alongside an estimation for future industrialised Vortex Tacoma turbines (2,75m height) [4].
| | | | |
| --- | --- | --- | --- |
| Wind speed (m/s) | Small HAWT | Small VAWT | Vortex Bladeless |
| 3 | 0 W | 0 W | 3 W |
| 6 | 72 W | 44 W | 35 W |
| 7 | 104 W | 66 W | 60 W |
| 8 | 135 W | 86 W | 80 W |
| 9 | 160 W | 105 W | 93 W |
| Nominal speed | 400 W | 200 W | 100 W |
The aim of the table above is to introduce about the topic of the real output and efficiency of different turbine technologies. Normally, electric machines are expected to work in design conditions, which mean that most of the time they should be working at nominal power. However, wind turbines at the ground level seldom reach their nominal power peak since the high wind speed required is not that common.
An important factor to keep in mind for the analysis of wind technologies is the output power which a turbine is able to reach in real conditions. Manufacturers are usually showing in their catalogs the nominal power of the generator i.e. the power in which the wind machine is expected to work in perfect conditions. However, it is common to omit the information about how much wind speed is required to reach the nominal power or, in some cases, be too optimistic in the cut-in speed and power curve without minding other wind's factors. All of this gives as result devices that are not really feasible for some environments.
Wind potential
To continue, the map below shows average wind speed levels which can be found in Europe throughout a year. Each wind speed has associated a wind potential (W/m2) estimation, computed according to different parameters such as air density, surface, and wind flow directions. Average wind speeds in European locations with significant probability are commonly between 4 and 6 m/s a few meters over the ground level, which means that the aerogenerator chosen should be adapted to this real conditions. On the featured image above you can see a more detailed map showing the wind potential worldwide. It is important to determine which is the operating range of each technology for having a better approach about the total output power a wind turbine would provide.
The following map collects wind features and average speeds in a year for different European regions, this can be extrapolated to other areas:
| | | |
| --- | --- | --- |
| Legend | Speed (m/s) | Potential (W/m2) |
| Purple | >7.5 | >500 |
| Red | 6.5-7.5 | 300-500 |
| Yellow | 5.5-6.5 | 200-300 |
| Green | 4.5-5.5 | 100-200 |
| Blue | <4.5 | <100 |
Figure 1. European onshore Wind Atlas, wind potential distribution [3]
Table 1. Key of the Wind map
The wind potential is a computation which determines which would be the maximum power offered from wind at a determined wind speed. However, wind turbines cannot catch all the energy on the wind, since that would stop it. Depending on the turbine model, it is possible to get higher or lower power from the wind, being the Betz's limit the maximum that a wind machine can harness  (59,3%).
Although it is briefly explained and real wind conditions are variable, it is possible to explain how those features affect to the different turbine families mentioned before, thus understand which are best wind speed ranges and conditions for each technology.
"Wind turbines at the ground level rarely reach their nominal power. When turbines are able to work efficiently on low wind speeds, operation time is increased"
feasibility comparison //
The graph below gives an estimation of the useful output of each turbine family divided by their nominal output. The goal of this is to compare the efficiency of each technology for the most common wind speed ranges around the world. The "percentage of usage" of each technology is not directly proportional to their nominal power, quite the opposite, those turbines which reach a higher nominal output usually draw a worse efficiency curve. In other words, if a turbine can reach a higher max power output, it will perform worse on low winds.
When turbines are able to work efficiently on slower wind speeds, the operation time increases. The way to understand the graph below is to think about how much power is produced divided by the nominal power (expected usage conditions) at a specific wind speed.
Although the graph above seems to put Vortex technology in a better position, it is just a matter of perspective. The estimation on the graph represents the efficiency of an average of different turbine families and explains why Vortex's behavior would respond better to common situations at ground level (wind speeds between 3 and 8 m/s) in comparison with an average of other technologies. In other words, horizontal and vertical axis turbines usually require higher wind speeds for reaching their nominal power while Vortex could respond normally for common wind speed ranges.
On the other hand, Vortex's turbines stop working beyond 11-12 m/s where regular wind turbines usually keep going, so the earlier you start generating, the earlier you have to stop. Then if your place has high winds all the year long, then a regular wind turbine may work better for you. We can see how Vortex technology and regular wind turbines are not competitors but offer different features for different conditions.
As a conclusion, we could say that for areas with a common wind range it is almost useless to have a wind turbine that is only able to give you a max power just a few times per month, when wind is strong enough. However, a turbine which is able to be working for a longer period of time, even if it produces less power, would give you a higher total energy on long-term. Each wind conditions and each generation goals will have a technology and a design that fits better.
"Vortex technology is pretty young compared to other ways of harnessing energy and it is still far from being fully optimised."
Installations' ROI
Moving to the economic aspects and taking into account the previous explanation about usage, it is important to highlight that manufacturers are always too optimistic on their products' specs when they are selling, so many of them provide data for a turbine that is supposed to work in nominal conditions of perfect wind most of the time. However, customers are not usually going to have such marvelous atmospheric conditions very often, so the expected energy production and the real energy production never matches. Furthermore, manufacturers don't tend to tell you about maintenance costs, installation costs and some other requirements of each technology.
An approach study for obtaining some simply economic conclusions is to analyse the yearly energy produced at different wind speeds, keeping in mind the investment required of the turbine and assuming that the comparison is going to be done under the same conditions. 
The factor obtained represents the unit of energy (kWh) divided by an estimation of investment for a fixed period of time (one year) [2]. This method is not the usual way to proceed for making a comparative study of different energy production systems since there are many other parameters to keep in mind which have their importance in the overall costs of the chosen system. The most accurate study is the Levelized Cost of Energy (LCoE) which is able to join all approaching factors.
Although there are many aspects to be studied on an aerogenerator's behavior over time, I have not taken into account several factors that are necessary for a proper LCoE calculation due to the lack of information from the small wind manufacturers. We are going to take into account just initial investment instead. The curve represented below is a factor that collects all the aspects mentioned before alongside different wind speeds calculated for a time period of one year (kWh/€ per year). 
The higher energy generated plus the lower investment gives the better factor. Both ways of thinking are suitable for understanding the logic of this study which demonstrates the economic effectiveness of investing in different types of technologies. Summarising the graph, it is easily observed that Vortex technology expects to be as competitive as others in the small wind market according to this given results.
This factor is estimated to be higher for Vortex turbines at the very beginning and end of its wind speed interval since we are not taking into account some aspects that would affect the aerogenerator's efficiency over time. We are not counting with long-term cost differences in installation and maintenance requirements either, which are expected to be lower on Vortex turbines compared to regular ones. Those features are impossible to be calculated without an experimental study comparing the three kinds of turbines working for one year.
Other parameters that could affect the overall investment and costs are, for example, that all HAWT turbines need to change direction to be oriented with the wind stream, this requires time and sometimes an energy cost. Some VAWT turbines don't start on their own so they need to consume some energy to start rotating. The capacity of regular wind turbines to adapt to wind changes is supposed to be slower compared to Vortex turbines, which are completely circular thus always well oriented to wind, and are able to start and stop on their own without human intervention.  We are not counting on those parameters either for the graph above.
Without the before mentioned aspects, we can perceive that all these technologies are giving very similar results. Are precisely those little operational and economical features what would make the difference on the cost-efficiency over time of a wind power installation based on each kind of wind turbine family.
"If the conditions allow it, hybrid installations are one of the best solutions to deal with the low power density of renewables systems nowadays"
Photovoltaics symbiosis
Solar power is considered a great solution for energy self-consumption systems. Offering a good amount of power, today's photovoltaic facilities are one of the most important sources of green energy. It is a mature technology with decades of development and optimisation. Nowadays and for moderate climate locations such as Centre and South Europe, photovoltaic power has become one of the most popular for customers who want to generate their own electricity at home (a thing that wasn't that easy a few years ago). Furthermore, the cheaper trending prices of installations and manufacturing during the last years makes solar the queen of on-site energy generation.
From the story of photovoltaics we can understand how a brand new technology as Vortex is, or as solar panels were decades ago, needs years and years of development, trials, optimisation, and improvements. Vortex technology is pretty young compared to other ways of harnessing energy and it is still far from being fully optimised.
We will have to wait for a little to see the whole potential of VIV wind generators based on oscillation, but the basis is settled down, which is already a big leap for renewables.
Many companies are evaluating the possibility to install combined facilities whose aim is to expand the possibilities and efficiency on generating electricity. For low power facilities or residential installations, photovoltaic combined with wind power is being a challenge but also a perfect way to have a more constant and efficient power generation since you have sunlight just a few hours a day but wind can blow 24/7.
Vortex turbines may represent many advantages for hybrid wind-solar solutions in comparison with other wind technologies due to its low maintenance and installation requirements. As long as other features like low noise production, low wildlife impact, low space needed for the operation, low shadow profile over the solar panels (this is a very simple but a very big one), etc… Talking about windmills it is important to mind that they project a tall shadow that is moving fast due to the blades. This moving shade can be a problem talking about hybrid wind-solar installations (you don't want shadows over your solar panels!) and when combined with noise it may provoke anxiety on humans and animals.
"From the story of PVs we can understand why a brand new technology needs years of development, trials, optimisation, and improvements."
Combined supply systems
As it was explained before, Vortex turbines are also designed to work with other technologies such as solar. If the environmental conditions allow it, the combination of both technologies provides the customer the exploitation of two natural resources at the same time. These combined installations are one of the best solutions to deal with the low-density power which renewable energy systems are offering nowadays since it is usually needed a lot of free space for generating a few kilowatts during a determined period of time with a wind or a solar generator.
Vortex' aerogenerators offer a good opportunity to be combined with photovoltaic technology thanks to the small size and small shadow projection. There is also a very clear advantage on the "wake effect"; this issue is common among wind technologies, it is caused by the movement of the structure, usually blades, which rotate according to the wind flow through the structure creating a turbulence that affects negatively to downstream and nearby devices, making them less efficient. In other words, the wind flow behind a working wind turbine has worse conditions and less energy potential. This is greatly minimised on oscillatory aerogenerators like Vortex.
It is expected that hybrid facilities increase their working hours compared to just solar or just wind facilities. For instance, in typical European regions, large-scale facilities can reach more than 1200 working h/year on solar resources and more than 1000 working h/year on wind resources [5]. It means that the combination of both resources can increase energy production significantly. Furthermore, Vortex turbines are easily integrated into PV installations so could have positive consequences on the LCoE, since both methods would share equipment and wiring; allowing better battery sizing and sharing other devices needed for low power facilities such as an inverter or a regulator.
Photovoltaic technology is a great opportunity to be combined with Vortex, but it is important to highlight that it is not the only solution. Vortex always can work as a single installation in the same way as other wind technologies could work in combination with solar power as well. There is a proper combination for each kind of location.
Energy density increase
One of the biggest problems with renewable energies is the low power density that they have. It is required a huge space to produce the same amount of energy with renewables that other conventional energy sources produce in a small facility.
Talking about wind farms it is necessary to keep in mind the distance among turbines due to the wake effect mentioned before. The wake produced by Vortex's devices, unlike conventional wind turbines, does not involve the same consequences to nearby equipment. As explained before, this wake effect is provoked by the structure of the turbine which modifies the wind flow that goes downstream. This is not necessarily disadvantageous for nearby turbines in the case of Vortex due to its oscillatory operation, but definitely results in an efficiency leak for regular rotatory wind turbines on wind farms.
Regarding the paragraph above, bladeless turbines offer a distance reduction between devices thanks to its different design, allowing to install a larger number of devices in a smaller facility. Furthermore, the angle of oscillation of Vortex's masts is around 5 degrees which means that when the turbine is working in normal conditions, it is going to cover an area of, give or take, 1 m2 in total, counting with the size of the turbine and the necessary free space surrounding [4]. On regular HAWT turbines, this area needed for the turbine to work could be even five times the total height of the turbine, which is huge for a wind farm and sometimes is quite a lot for a residential installation as well.
"Vortex Bladeless expects to be as competitive as other technologies in the emergent small wind market"
Conclusion //
To conclude, it is important to highlight the grade of development of the different low power renewable technologies studied in this article. A proper comparison must be done under similar conditions and similar devices which have about the same level of maturity, namely, similar power generation features. This cannot be properly done now since Vortex is not a fully developed technology yet; all the data provided about Vortex turbines is estimated with the prototypes' expectancy.
For further economic studies about the possibilities of bladeless turbines in the low power market, it would be interesting to analyse in detail the levelized cost of energy (LCoE) for each kind of wind turbine family.  LCoE value represents the costs for producing one unit of energy along the lifetime of the facility. However, the accuracy of this computation depends on many assumptions which could not be obtained in basic terms due to the lack of information available. This article is just willing to explain in simple words what would be the situation of Vortex turbines in the small wind market nowadays, without keeping in mind other parameters but the initial investment. Other aspects like low maintenance costs and low noise levels make this technology to seem the best option on combined renewables installations where quiet and peaceful environments are necessary.
Far from being a promotion text, my goal with this article is that customers can have more information on the decision making when the different technologies are compared. It is important for you to keep in mind the wind potential of your location and the specifications of the turbine before you choose a technology for your residential hybrid installation. Although Vortex turbines could work as a single facility,  first expectations are according to be used on hybrid systems in those places where sun and wind conditions allow a combined installation.
Focusing on Vortex development, it is important to mention that there are parallel studies for implementing this idea on high power systems. This means that the researching ways are continuously being improved to reach higher expectations. How far can Vortex technology go? Will we see oscillating devices all around the landscape someday? The basis is already settled, time will tell!
Article written by:
Luis Perez Maroto, Economics and management of power engineering. Technical University of Prague
References
[1] "Vorticity, Circulation and Potential Vorticity". Columbia University. 2018. Retrieved: columbia.edu
[2] "Renewable energy: Physics, engineering, environmental impact economics and planning" Ben Sorensen. 1979. Book
[3] "Wind resources in Europe" Risø National Laboratory, Denmark. 2008. Retrieved: mstudioblackboard.tudelft.nl
[4] "VIV resonant wind generators" David Yáñez Villareal. 2018. Paper
[5] "Wind Turbine Wiki, Output faqs" National Wind Watch. Retrieved: wind-watch.org